BIRAC's Biotech Startup Expo 2022
Adamya Herbal Care Pvt Ltd showcased innovative Ayurvedic& Health supplements at BIRAC's Biotech Startup Expo 2022, New Delhi .This Event has been organized by BIRAC -Department of Biotechnology (DBT) Ministry of Science &Technology , Government of India And Inaugurated by Honorable Prime Minister of India Shri Narendra Modi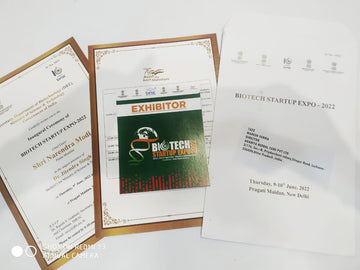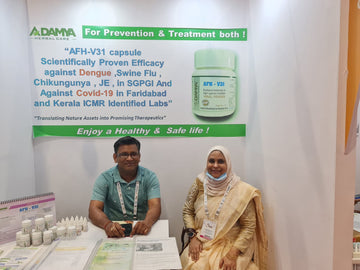 This Event was held to mark the completion of ten years of setting up of BIRAC. The theme of the Expo is 'Biotech Startup Innovations: Towards Aatma Nirbhar Bharat' We plan to be a part of many more events in an attempt to offer &showcase our range of Innovative products to different Stakeholders . Currently Adamya Herbal Care PvtLtd , is planning more exhibitions which will be announced shortly !
Conference on Emerging Technologies in Healthcare
Our innovations were exhibited at the Startup Exhibition held during the December 2022 Conference on Emerging Technologies in Healthcare. The conference was organized by the Innovation Hub, AKTU, in collaboration with King George Medical University, Center for Biomedical Research, and StartInUP.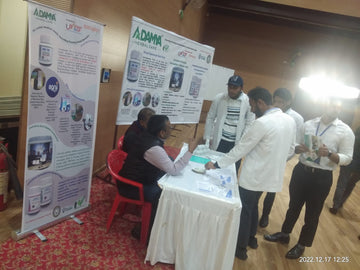 The event was inaugurated by several distinguished individuals, including Shri Akshay Tripathi, Special Secretary of the Department of IT & Electronics and Managing Director of UP Electronics Corporation; Lt. Gen. (Dr.) Bipin Puri, Vice Chancellor of King George's Medical University, Lucknow; Prof. Alok Dhawan, Director of the Centre for Biomedical Research and President of IAKA / AKWL; Prof. Soniya Nityanand, Director of Ram Manohar Lohia Institute of Medical Sciences, Lucknow; and Prof. Pradeep Kumar Mishra, Vice Chancellor of Dr. APJ Abdul Kalam Technical University, Lucknow.
Global Investors Summit, UPGIS
Our startup was selected by UP Startup to exhibit our innovative products at the Uttar Pradesh Global Investors Summit (UPGIS), UPGIS is the flagship investment summit of the Government of Uttar Pradesh. UPGIS 2023 witnessed the participation of more than 10,000 delegates (both domestic and international) from over 20 countries.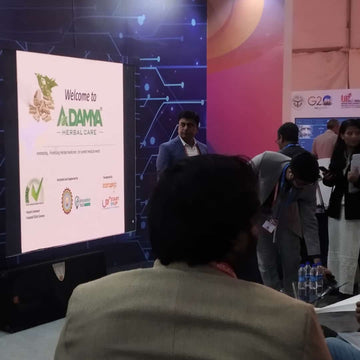 UPGIS 2023 witnessed knowledge sessions, cross-border investment commitments, and the Summit served as an amalgamation of world business, political, and government leaders coming together for the economic development of our country.
Workshop organized by TIFAC Govt of India
Our startups were selected to showcase TRL 6 and above technologies developed by us in the joint workshop organized by TIFAC (Technology Information Forecasting and Assessment Council), Government of India, and CSIR-CDRI (Central Drug Research Institute). The workshop focused on the areas of Chemical, Pharmaceutical, Healthcare, and Medical Sciences.
The TIFAC-CDRI joint workshop was attended by several notable individuals, including Dr. Radha Rangarajan, Director CSIR-CDRI ,  Shri Pulak Ranjan Basak, Scientist G, TIFAC,  Prof. Shubhini Saraf, Director, NIPER-Raebareli and Dr. Shradha Goenka, Managing Director of Biotech Desk Pvt Ltd.
Seminar on the Holistic Management of Cancer
The seminar on the Holistic Management of Cancer, organized in association with the Indian Medical Association (IMA) Lucknow and the Indian Cancer Society, Lucknow Branch, was inaugurated by Chief Guest Shri Arun Kumar Sinha ji, Senior IAS and Chairman of UPSSSC.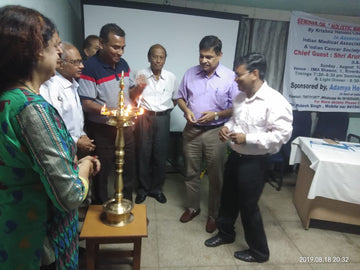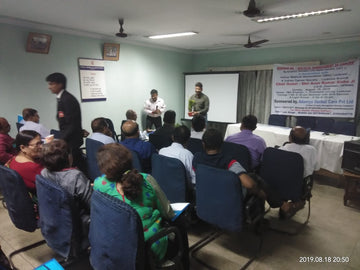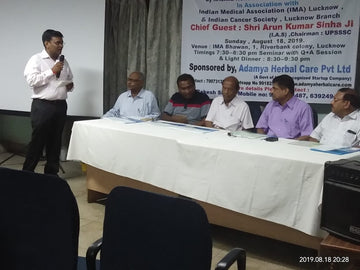 Renowned speakers at the seminar on the Holistic Management of Cancer include Dr. T.N. Dhole, former Head of Microbiology at SGPGI; Dr. AJAY Kumar Srivastava from CSIR-CDRI; Dr. Mahesh Verma, R&D Head at Adamya Herbal Care Pvt Ltd; Shri Jitendra Rao from KGMU; Dr. M. Lal, HOD at Dravyaguna-State Ayurvedic College & Hospital, Lko; and Dr. Kuldeep Rastogi from State Ayurvedic College & Hospital, Lko.
The seminar was attended by various renowned personalities from the medical fraternity, including Prof. Sandeep Kumar, Founder Director of All Indian Institute of Medical Sciences, Bhopal, and Dr. Rakesh Singh, MBBS, D.CARD, FIAMS, among others.