Founder's Message
It is with great pleasure that I share my thoughts and gratitude as the founder of Adamya Herbal Care.
Scientific and policy circles have recently recognized the significance of nature's contributions to human health. Adamya Herbal and its research partners have been tirelessly working to harness nature's strength as we witness this growing awareness. Developing scientifically proven remedies to meet unmet medical needs has been our collective mission.
Nature has always been a source of inspiration and healing for humankind. Ancient wisdom, such as Ayurveda, has provided us with profound insights into the medicinal properties of herbs and natural substances. With the advancement of scientific research, we are now able to delve deeper into understanding and unlocking the true potential of these natural remedies.
At Adamya Herbal Care , our team of experts brings together a diverse range of knowledge and expertise. Their dedication and passion drive our research and development efforts, ensuring that we stay at the forefront of innovation in the field of natural medicine. We are committed to conduct rigorous scientific Research, both preclinical and clinical, to validate the efficacy and safety of our remedies. Through our collaborative efforts with world class research partners, we strive to bridge the gap between traditional wisdom and modern scientific advancements.
Adamya ,commitment to unmet medical needs is unshakable.  We understand that there are numerous health conditions and challenges that remain underserved by conventional medicine. It is here that we see an opportunity to make a difference. By leveraging the strength of nature and the power of evidence-based medicine, we aim to provide safe & effective solutions to individuals seeking alternative paths to healing and well-being.
I would like to express my sincere gratitude to team Adamya, research partners, and all those who have supported us on this incredible journey. It is through their collective efforts that we have been achieving significant milestones and continue to push the boundaries of natural medicine. Together, we have embarked on a path that combines ancient wisdom with modern science, striving to transform lives and contribute to the advancement of global healthcare.
I invite you to explore Adamya Herbal Care research-driven herbal Ayurvedic medicines & nutraceuticals and witness the transformative potential they hold. Join us in embracing nature's strength as we pave the way for a healthier and more sustainable future.
With warm regards,
Dr Mahesh verma ,Founder, Adamya Herbal Care Pvt Ltd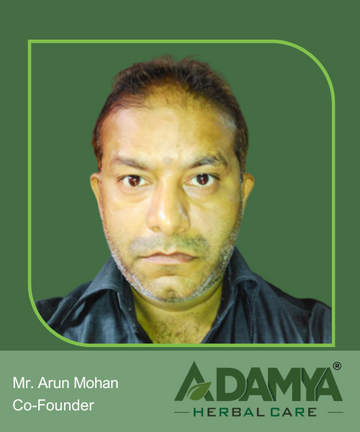 Co-Founder
Mr. Arun Mohan
Co-Founder's Message
Greetings,
I would like to extend my heartfelt greetings and appreciation to all our valued stakeholders. As a co-founder of Adamya Herbal Care , I am honored to share my thoughts with you.
Medical innovation has always played a crucial role in advancing medical science and improving the well-being of individuals. However, since the COVID-19 pandemic, innovation has become more critical than ever. Our everyday lives have been profoundly impacted, making it clear that innovative solutions are needed to navigate these challenging times.
It is our firm belief that Adamya Herbal Care is committed to meeting the evolving needs of individuals and communities through innovation. By embracing innovation, we can make a lasting impact on healthcare. Adamya commitment lies in leveraging the power of nature and scientific research to develop solutions that address both the immediate and long-term challenges facing society.
We understand that the current situation demands agility, adaptability, and collaboration. Adamya Herbal Care is dedicated to cultivating an innovative culture, exploring new ideas, and seeking new approaches to healthcare. In order to develop effective and sustainable solutions, we strive to stay at the forefront of scientific advances and integrate them with traditional medicine's wisdom.
I express my deepest gratitude to our team , partners, and all those who have placed their trust in us. Together, we have the opportunity to drive positive change and make a tangible difference in the lives of people worldwide. Let us embrace the power of innovation and work collectively towards a healthier, safer, and more prosperous future.
Thank you for joining us on this journey of healthcare innovation.
Warm regards,
Innovation Committee
Shri Arun Kr. Sinha
IAS UP Cadre 1983 Batch
Ex Addl. Chief Secy., Medical, Health & Family Planning, GoUP
Dr. Raghvendra P. Pal
Ex- Dy. Director, CDRI, Lucknow
Dr. K. Maurya
Ex-Senior Scientist, CDRI, Lucknow
Dr. S.K. Goyal
AIIMS, Bhopal
Ex-Head Biochemistry
Dr.Akhilesh Garg
M.D.(Ay.)Ph.D.(Ay.)
Ex -Principal State Ayurvedic College Ex-Additional Director, Directorate of Ayurveda, U.P.
Dr. Makhan lal BAMS
MD Prof. & Head Dravyagun, State Ayurvedic College & Hospital, Lucknow,(U.P.) India
Dr T.N.Dhole
Ex- Head of Department – Microbiology , SGPGI ( Sanjay Gandhi Post Graduate Institute of Medical Sciences, Lucknow ) President - Indian Association of Medical Microbiologists Expertise in : Molecular epidemiology of poliovirus Molecular epidemiology of non-poliovirus enteroviruses Vector borne viral diseases (JE/Dengue/Chikugunya)
Dr. Kuldeep Rastogi
BAMS, MD, Prof.
Rognidan State Ayurvedic College & Hospital, Lucknow,(U.P.) India